Exploring Values
In deciding which values to explore first, we thought about deepening our understanding of the words in our school prayer:
The Downley School Prayer
Here in our school, let us be peaceful at all times.
Let our rooms be full of happiness and respect for each other.
Let love be in our hearts, with kindness and compassion for all.
Let us remember, in learning together, we grow together and succeed together.
PLEASE LOOK AT THE ASSEMBLIES AND NEWSLETTERS WHICH LAUNCHED EACH VALUE BY CLICKING ON THE TABS ABOVE
Our 'Values' journey began in February 2013 with 'Love' being the first value we explored.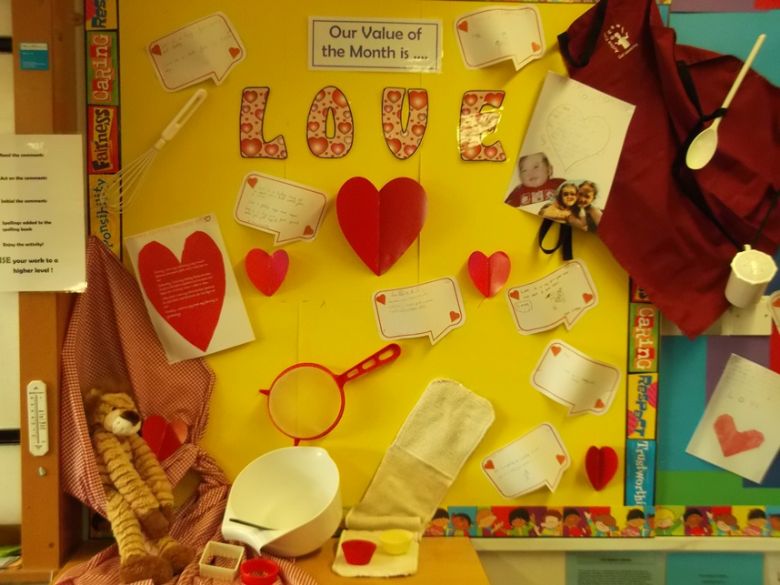 The staff created amazing displays in their classrooms and everyone became really involved in thinking about Love in lots of different ways. This word means many things to different people and we learned a great deal from listening to each others' thoughts and experiences.
Our second value was 'Compassion', which followed on beautifully from Love. Again, listening to each other meant that we were learning from each other. Compassion can be shown in many different ways and every class explored this value in great depth.
In April we were full of 'Respect'. We could feel an 'ethical vocabulary' starting to build as people all over the school started to use the language of values in everyday life. We created 'Respect' stickers and gave each other a sticker to wear home when we recognised respectful behaviour.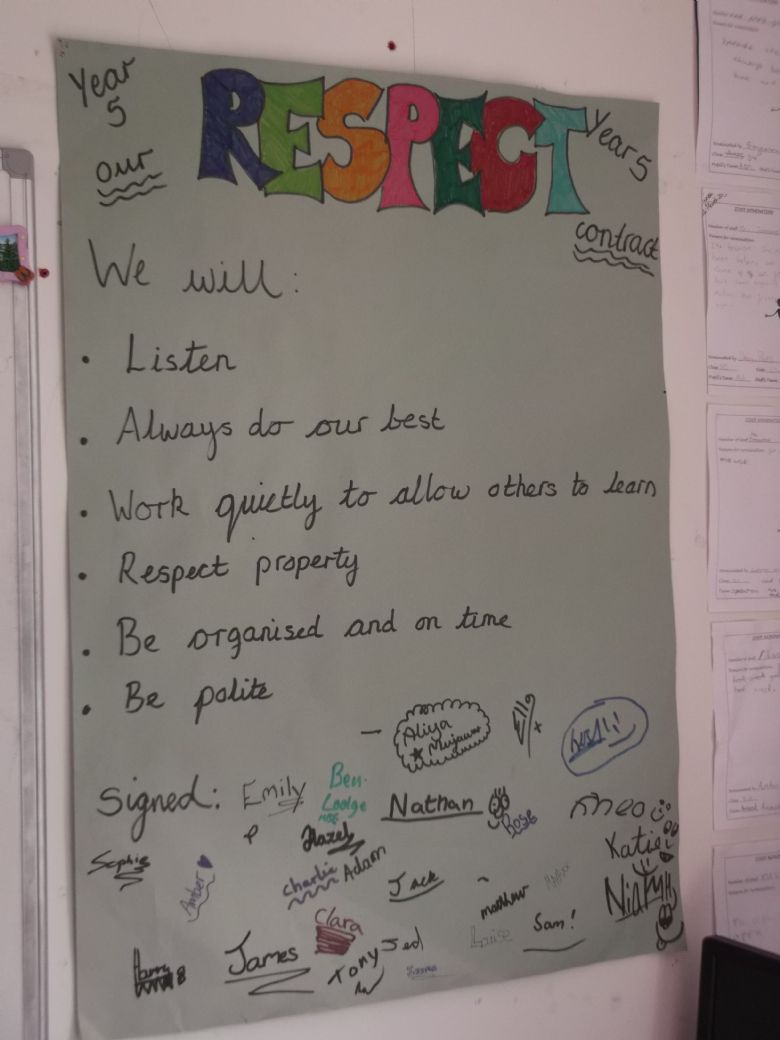 In May, we studied 'Kindness'. Specifically we looked at the work of Danny Wallace in starting 'Random Acts of Kindness'. This idea had great appeal and throughout the school, staff and children alike were in receipt of random acts of kindness on a daily basis. This little girl inspired us all...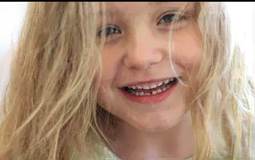 In June we explored 'Responsibility' and thought about what we are each responsible for and the consequences of not taking responsibility. Everyone had a brick to build a 'Wall of Responsibility' in our hall, showing the many different things we all took responsibility for and how strong our world can be if we all think hard about what we can be responsible for.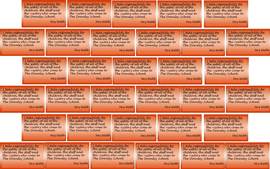 | | | |
| --- | --- | --- |
| We finished the school year in 2013 with our sixth value - 'Friendship'. Some of us thinking about moving onto secondary school and how to keep the friendships we have made at primary school. Some thinking about moving into a new class and making new friends. We also celebrated our recent 'International Day' and thought about how important it is to make friendships with people close to us and also far away, in different parts of the world. | | |
| | | |
'I think that our values work is great! Now I feel that at school I can understand myself more fron the values and I don't just have normal lessons at school. The values are also inspiring me to do stuff to be kind and help out. Thank you! Hazel - Year 5 pupil, July 2013
We carried on exploring our chosen values until all 22 had been focussed on for a month each. As time has gone by, the impact has been overwhelmingly positive and, as we started to revisit each value, we all knew we had created something very special at The Downley School.
Visits to the school are very welcome. Our passion is to share our work and our journey with others who would like to know more - and perhaps who would like to help to change their environments - for the better.
---