The Vikings!

For our next topic we had a History focus and looked at how Britain changed after the Romans left up to 1066. We considered what daily life was like in Anglo Saxon Britain and the struggle for power between the Anglo Saxons and Vikings and the reasons behind this. We learned about how the counties in England changed after the Viking invasion and the importance of some Anglo Saxon kings. Once we understood how the Vikings came to rule some of Britain, we looked at their daily lives – the clothes they wore, how they organised their citizens and how they went into battle.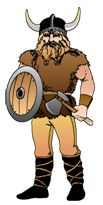 Our project also covered other curriculum areas such as:
Computing – we investigated a Viking simulation and designed & encoded our own rune rolling program to predict the future.
During our indoor PE lessons we learned a Viking dance/battle march.
In Art we sketched and designed Viking knots.
Not every curriculum area linked to our project.
In Literacy, we focussed on vocabulary and style in our writing, using the story of Mary Poppins as a stimulus.
In Maths we learned about fractions. We looked at how to recognise equivalent fractions; order fractions (sometimes with different denominators); learned how fractions link to decimals and percentages and how to convert them; understood what improper fractions are and how to change them to mixed numbers as well as tried to solve word problems using fractions, decimals and percentages.
In Science we looked at materials and their properties and used these to group and classify them, as well as carry out some investigations.
In R.E. we looked at festivals that different religions worship and how some are similar across faiths.
In Spanish we looked at telling the time and continued tor study our focus country; Mexico.
Check out some of the photos from the 'stunning start' to our project, where we attended a Viking workshop.
---