Safer Routes to School
Keeping our children safe is extremely important. But keeping them safe and putting a smile on their faces at the same time is even more rewarding.
We are the Safer Routes to School Group and our aim is to give our children the opportunity to socialise, feel more independent, confident, happier and healthier while teaching them how to be safe on the road.
The School actively participates in the Safer Routes to School programme. Being a school with a compact catchment area, most children are within walking distance and many of our children regularly walk, scoot or cycle to and from school. The children not only benefit from the fresh air and exercise, but can also collect 'Go for Gold' stamps which entitle them to regular rewards. This not only reinforces our keeping healthy and sustainable message, but helps to alleviate the danger caused by too many cars at the school entrance. Additionally, children in Year 1 are given specific 'Footsteps' training on aspects of road safety.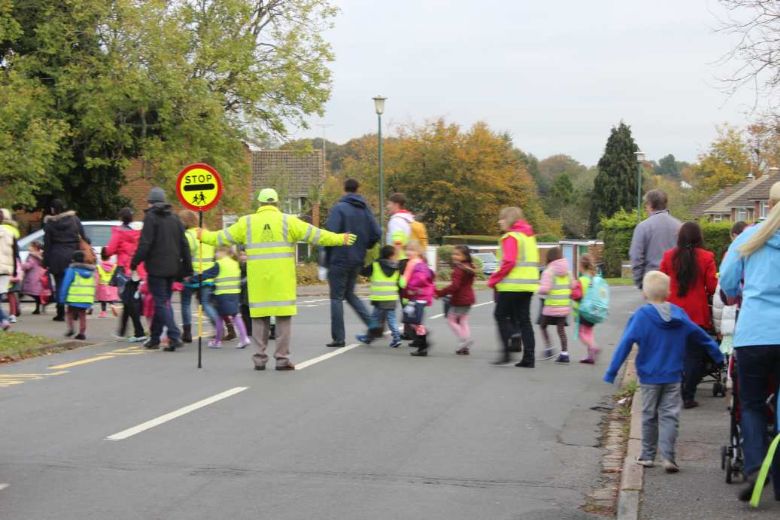 We also organise road safety campaigns, with the help of The Parish Council, Police and Fire Brigade, to help parents/carers and children understand how important it is to avoid driving or parking on or near the school premises.
No unauthorised cars are allowed to enter the school premises at pickup and collection times and for the safety of all our children, we specifically request that drivers 'Stay away from Faulkner Way!' Please do not drive into and park in Faulkner Way.
We have arranged that cars can park in the Co-Op car park or Cross Court car park and children who live further away can walk to school from there. If, for reasons of disability, you need to use the school car park, you must request permission from the School Office.
Thank you very much!
The Safer Routes to School Group